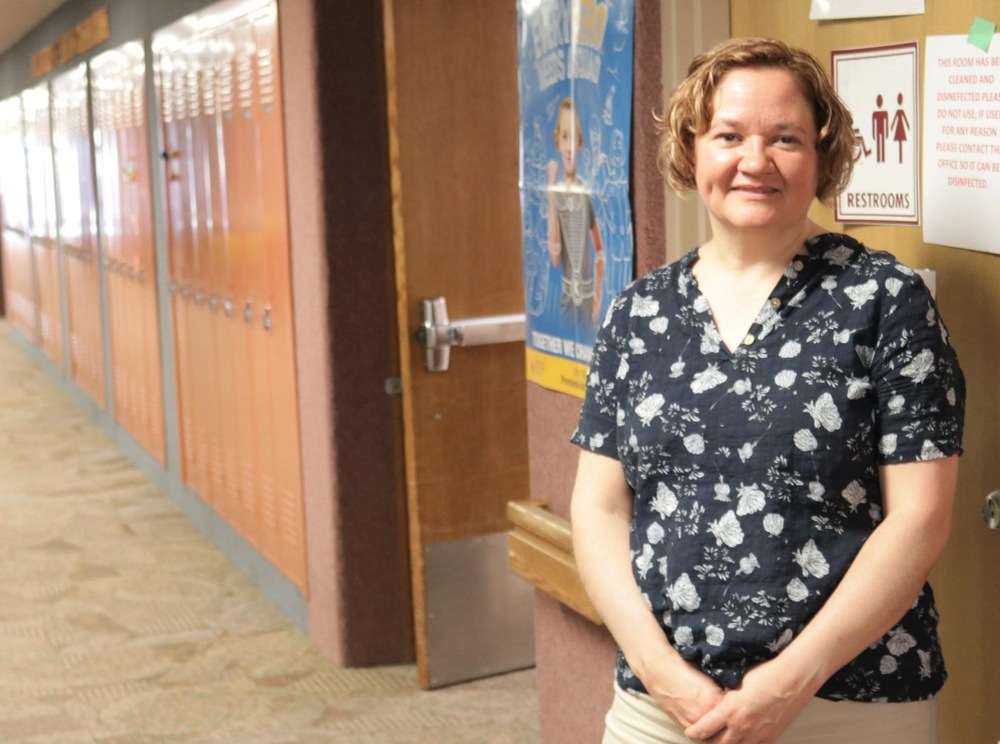 Bell takes over reins of Carbon's Special Education programs
Carbon School District
Monday, July 27, 2020
Amy Bell faces a momentous task.
She is taking over as the principal of the Castle Valley Center and running the Special Education programs across Carbon School District.
It is momentous not only because it is a big job, but also, until recently, has been supervised by one of the most long term, and well liked educators Carbon has ever seen, Mike Keller.
"Mike is definitely a legend around here," she said. "I have to say it is intimidating because he understands the heart of working with and serving people with disabilities. My goal is to emulate that. I am very grateful that I got the chance to work closely with him the last couple of years."
Bell is a native of eastern Utah, growing up in Emery County and spending her whole life either going to school in the two county area or working here.
"My whole family is from Emery County and most of them still live there," she said.
She graduated from Emery High School and went onto college to become a licensed clinical social worker. She graduated from Utah State University with her bachelors degree and then she got into an outreach program from the University of Utah, and was able to obtain her masters degree.
"I really thought I was going to be a therapist," she said. "At the time Tom Roush was the special education director in Carbon District and I happened to apply for a job as a school counselor. He wanted someone who had a background in mental health issues and I worked with him for a number of years. He gave me a lot of training and opportunities to grow as a professional. Carbon District treated me exceptionally well while I was here."
That went on for about 10 years and then she took a job at Emery County School District because with four kids she "couldn't parent from Price anymore." There she worked as a school psychologist.
"It was a very hard decision to do that," she stated. "I landed in education without really realizing how great it would be. And it was in special education, where I have now been for 26 years."
With her children grown, she had the opportunity to come back to Carbon as a school psychologist two years ago.
"I have worked much of my career in behavior planning and behavior intervention," she explained. "In Emery I worked with a lot of kids on the autism spectrum, and coming back here was hard because the work I was doing with individual students there was so rewarding. For many years people told me I should get my administrative certificate, but I didn't want to do that because I loved what I did so much."
However, finally convinced, she did get it and that helped to put her in the place she is now assigned to. She said that certification came just shortly before she came back to Carbon and had "always held out hope that I could become the principal at Castle Valley Center."
"It is a dream place to land,"she said with a big smile on her face.
Despite a very able and well run program, she said however, that there will be some changes across the district in special education this coming year.
"We have a district special education team and one of the things we are doing is restructuring our self contained units so they are more accessible to a broader scope of students" she said. "We want the changes to help more students improve functioning, improve independent living skills and make more progress academically. I am thrilled with the direction that is all going."
Castle Valley Center serves students from both Emery and Carbon County so her ties to the overall community is an asset to the institution. The school has several programs including a preschool, a transitional kindergarten, a school age program and an adult program. Overall the school serves about 105 individuals.
"It is a very unique school," she stated. "And I think it is as much a community center as it is a school. It's not just academics; we take a broader view working on functioning skills and life skills. We teach students to access the community. The people that work here are not just teachers, they are advocates for their students."
She said it may not be apparent from the outside, but if people could see the progress many of the students make from year to year because of the teacher's efforts, they would be amazed. She said Carbon District has worked to not segregate or set students with disabilities apart, but look at them as individuals with their own special needs.
"One of our goals at Castle Valley Center is more community access. We want to get our students out into the community so they get more experiences," she explained.
She knows the big picture and the big shoes she will be filling. And it is with that knowledge that she enters into a new professional life for herself and a new chapter in special education at Carbon School District.