Carbon School District is seeking applications for Guest Teachers at various locations throughout the District for the upcoming 2022-2023 school year. Guest Teachers provide backup teaching services when full-time teachers are unable to work. Guest Teachers execute lesson plans left by the absent teacher. Guest Teachers create and maintain a respectful and fair classroom culture that fosters safe and productive learning. Guest Teachers monitor, observe, and report student behavior according to school policies and procedures. Must be a high school graduate and be at least age 18.  Will be required to pass a Live Scan fingerprint background check as well as a one hour online training course. Apply online at
www.carbonschools.org
using the Menu tab and the CSD Employment Opportunities link

HMS Parents: Volleyball has added Mondays as well for Open Gyms - Mon and Wed from 9am to 11am.

HMS Parents: Boys Basketball open gyms - Saturdays 10am to 12 @ HMS

HMS Parents: Cross County summer open gym starts June 13th from 7am @ HMS - Girls basketball open gym started May 31 on Tuesdays & Thursdays from 3 to 4:15 @ Sally Mauro - Boys Football Open Gym starting June 1 on Tuesdays & Thursdays from 6 to 8 pm. - Girls Volleyball Open Gym starts June 8 on Wednesdays from 9 to11 am. Due to construction locations may change occasionally. Please check with coaches for details.

Carbon School District is seeking applications for a part time Art Teacher at Helper Middle School. The Art Teacher's responsibilities include sourcing art supplies, preparing lessons, and providing developmentally-appropriate engaging instruction on art techniques. Will manage a classroom in a way that encourages creativity and self-expression among students from grades 6th – 8th.  Art Teacher responsibilities include planning lessons on in accordance with state and students' learning objectives, preparing the classroom by gathering and setting up equipment, developing students' drawing, coloring, and painting techniques, providing instruction on the various uses of use of electronic and traditional media such as graphite and charcoal pencils, as well as oil, acrylic, and watercolor paint, assigning and grading projects and examinations, recording and reporting on students' progress, monitoring inventory and sourcing art supplies, as needed, attending faculty and parent-teacher meetings.  Must have a Bachelor's degree in Fine Arts with teaching qualification, or equivalent, demonstrated excellence in a variety of art techniques, excellent verbal and written communication skills, capacity to supervise group work, outstanding planning and problem-solving skills, supportive, flexible disposition.  This is a part time position that begins with the 2022-2023 school year. Apply online at
www.carbonschools.org
using the Menu tab and the CSD Employment Opportunities link.

HMS Parents: We are planning to hand out yearbooks today to give students more time to sign. We will have additional time tomorrow. Fees/Fines must be paid before receiving a yearbook. Please contact the office at 435-472-5441 after 8am with questions.

HMS Parents: 6th grade awards @ 9am tomorrow and 7th grade awards @ 10am.

HMS Parents: We still have many track uniforms and library books that have not been turned in. These could result in a fine. All fines/fees must be paid before the end of school. Please contact the office with any questions at 435-472-5441

HMS Parents: End of year activities - (Band/Choir concert May 19 7pm), (No School May 20), (8th Grade Awards ceremony May 24 6:30pm), (Last day of school May 26 dismissed at 11:20).

HMS Parents: Due to some bus driver issues we will be combining bus routes 22 and 163. This means bus 163 will be arriving to Price later that normal. This is expected to continue for the remainder of the school year. Thanks

HMS Parents: 8th grade students have been reading The Outsiders and will have the opportunity to participate in 'Outsiders' day on Thursday May 19th. They are encouraged to dress up as Greasers or Socs from the 1960s. There are suggestions on Google Classroom. They will be walking to Main Street in the morning to get pictures in front of the old fashioned gas stations and to get an ice cream at Aunt Nell's ice cream shop. They will have lunch at the school and watch the movie that afternoon. They may bring snacks related to the book (popcorn, soda pop, chocolate cake, chocolate milk, etc.) for the afternoon viewing of the movie.

HMS Parents: Field trip info: Bring a jacket, A sack lunch, Good shoes, Be on time, Any drinks that are not water have to have a twist lid, Water bottle and Money for extra spending (optional)

HMS Parents: For tomorrow's field trip. Students will arrive and leave school as normal. Students will need a sack lunch. Please call the cafeteria at 472-4811 if you need to order one.

HMS Parents: Upcoming field trip information - May 11 - Students must be eligible - No F's or U's - these must be made up by May 9th - citizenship will count up to May 11th. F's made up with individual teachers, U's with the counseling office. Please check your student's grade this weekend. Thank you.

HMS Parents: Students interested in Football next year - There will be a parent meeting on May 9 @ 7:30 pm at the Helper Middle School on the new stairs in the school. GO RAMS!!

HMS Parents: Demolition Plan - Currently our temporary entrance is located at the south end by the band room. Please call the office to gain entry. Beginning May 9th buses will be located on the south of the football field while building demolition begins and parking will be limited on Uintah St. Please use extra caution as there will be an increase of truck traffic.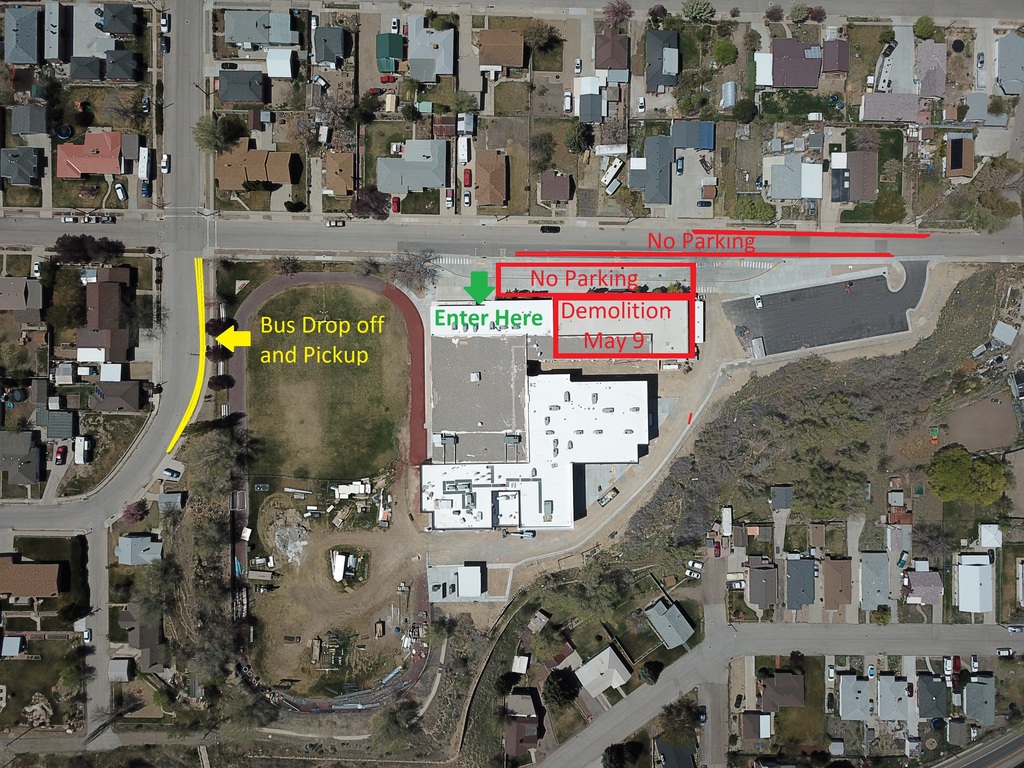 HMS Parents: Upcoming field trip information - May 11 - 6th grade to Arcade in Spanish Fork, 7th Grade to the Aquarium, 8th to Boondocks - Students must be eligible - No F's or U's - these must be made up by May 9th - citizenship will count up to May 11th. F's made up with individual teachers, U's with the counseling office.

HMS Parents: reminder Friday is a 1/2 day buses arrive at the school at 11:30. Lost and Found needs to be claimed by that day. All fees must be paid by 5/23. Yearbooks $40 until 5/2.

HMS Parents: Next week's schedule 4/25-4/29 - Monday normal early out - Tues and Wed we will be doing our end of year testing - please ensure students are present rested and fed. Thursday - track meet - Friday (moving day) we will be moving into the new building and will have an early out day. Lunch will be at 11:00 and will only be PB&J while we move the kitchen. Students will be excused at 11:30. Buses will be here at that time. Thank you.

HMS Parents: We have a change in our schedule tomorrow. Friday is a field day for track. We are going to take the track team and any other student who is eligible, meaning no F, N or U's that would like to participate. You are welcome to participate in as many of the events you want but are expected to participate in at least one. This is just a fun day to go and try something different. Please check your SIS and if you do not have an F, N or U you are welcome to go to the High School tomorrow. Bring warm clothes, sunscreen and a sack lunch. We will not return to school until approximately 1:30 in the afternoon. If you are not eligible to attend you will be staying here at school. A list of eligible students will be on the counseling office door and the office door.