We're excited for Carbon Football's kickoff to the season this Friday, August 11 at 7:00 pm against Hillcrest High! This game is a State Endowment Game, which means that all gate fees are sent to UHSAA. As in years past, per UHSAA guidelines, everyone must pay because no passes (including student activity cards) are accepted. Please note that NO CASH or cards will be taken at the gates. Purchase your tickets online at
https://gofan.co/app/school/UT7036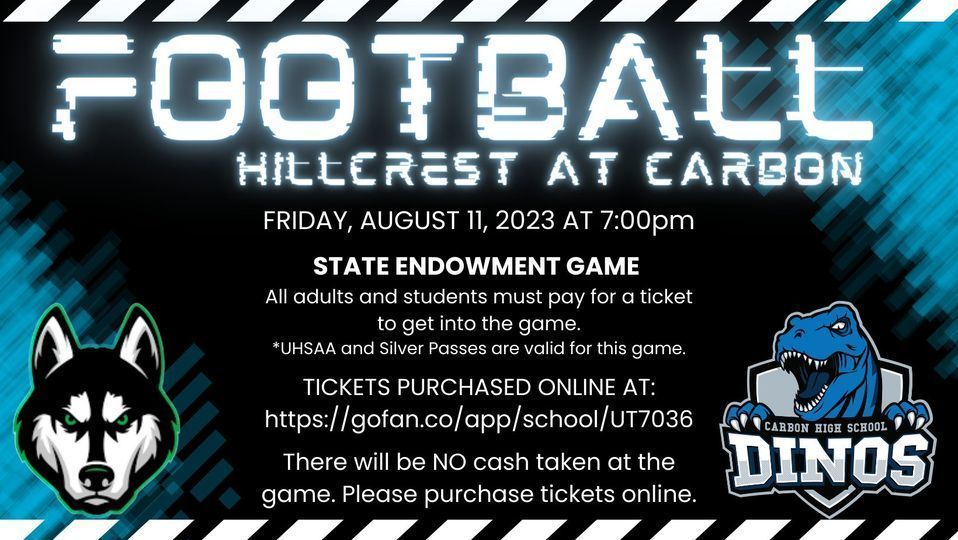 Registration begins Monday, August 7th at 9AM. New students will need to bring birth certificate, immunization t records, court documentation (if applicable), etc. Please call the school if you have any questions 435-888-4474.

Carbon School District is seeking applications for an After School Aide. Will work in the After School Program at the Elementary level.  Positions available at Creekview Elementary in Price and Bruin Point Elementary in Sunnyside.   Must be able to work well with young children and be able to take direction from the supervising teacher.  Will work approximately 19 hours per week.  Must have a high school diploma or equivalent.  Must be able to pass a Live Scan fingerprint background screening. Beginning pay is $14.92 per hour. Apply online at
www.carbonschools.org
using the Menu tab and the CSD Employment Opportunities link.

Carbon School District is seeking applications for a Math & Reading Parapro/Art Specialist at Bruin Point Elementary School in Sunnyside, Utah. This individual works as a reading and math paraprofessional with small groups or one-on-one with students. In addition, this individual is the fine arts specialist and prepares lessons and activities around fine arts for the classes to participate in during their specials rotations.   Must have a high school diploma or equivalent.  Must be able to pass a Live Scan fingerprint background screening.  Must pass the Para Pro test or have enough college credits or an Associate Degree.   This is a 29 hour per week position with pay ranging from $14.92 to $16.71 dependent upon which position the person is working.   Apply online at
www.carbonschools.org
using the Menu tab and the CSD Employment Opportunities link
We have A LOT of items in our lost and found. They will be set out tomorrow. Remind your kids to grab anything that is theirs. Anything left will be donated/disposed of. Thanks!
REMINDER walk to school tomorrow .. bus will drop off students at the wellness center. Walkers or parent drop offs at the wellness center too. Walk begins @ 7:35AM
Tomorrow is our Field Day 5/24/23. We will be having water activities. Parents, send a towel with your child. You can also send a change of clothes if you'd like. PLEASE, NO SWIM SUITS!

Carbon School District is seeking applications for an Elementary School Therapist. Must be able to given prevention instruction to students, be able to conduct form and informal investigations to determine the root cause of a behavior issue, provide behavior supports and help with Student Behavior plans. Must be able to conduct social skills and other small group instruction and have the ability to facilitate communication that will foster understanding between parents, students and educators.   Must be well versed in working in crisis situations and have the ability to provide students with mental health therapy when needed.  Must have a Master's degree. Preference given to those with LCSW.  Must be able to pass a LiveScan fingerprint background screening. Apply online at
www.carbonschools.org
using the Menu tab and the CSD Employment Opportunities link

Every day, we feel fortunate to have hundreds of people work in our schools to support our students, and we thank them for their ongoing commitment. This last week of school is always a week full of energy, excitement, and hope. Each level of school sends a group of students to advance to a new level of learning or even to a new level of life. We are proud to be a part of their journey. It has been common practice to read the name of each graduate as they approach the stage to receive their diploma. Students who choose not to attend or cannot attend for a number of reasons are listed in the program, newspaper, and other published material, but their names are typically not read during the ceremony. However, Carbon High reviews requests for recognition for graduates who are unable to attend. As for the current situation on social media, there has been no request by a graduating student or their family member to have a student's name read who cannot attend the 2023 graduation. As always, conversations are encouraged and essential to understanding and working toward solutions. We ask that efforts from our community focus on celebrating our graduating seniors. It saddens us to see unnecessary outrage that could have been avoided with a direct conversation. Once again, thank you to the staff members who have planned this huge event, and congratulations to our accomplished graduates!!!
BPE will be having PARK DAY Monday, May 15th from 11:00-1:00. A sack lunch will be provided. If your student wants a home lunch please send it with them.
D.A.R.E. & 5th Grade Celebration, tomorrow, May 10th, 2023 at 12:30PM - 1:30PM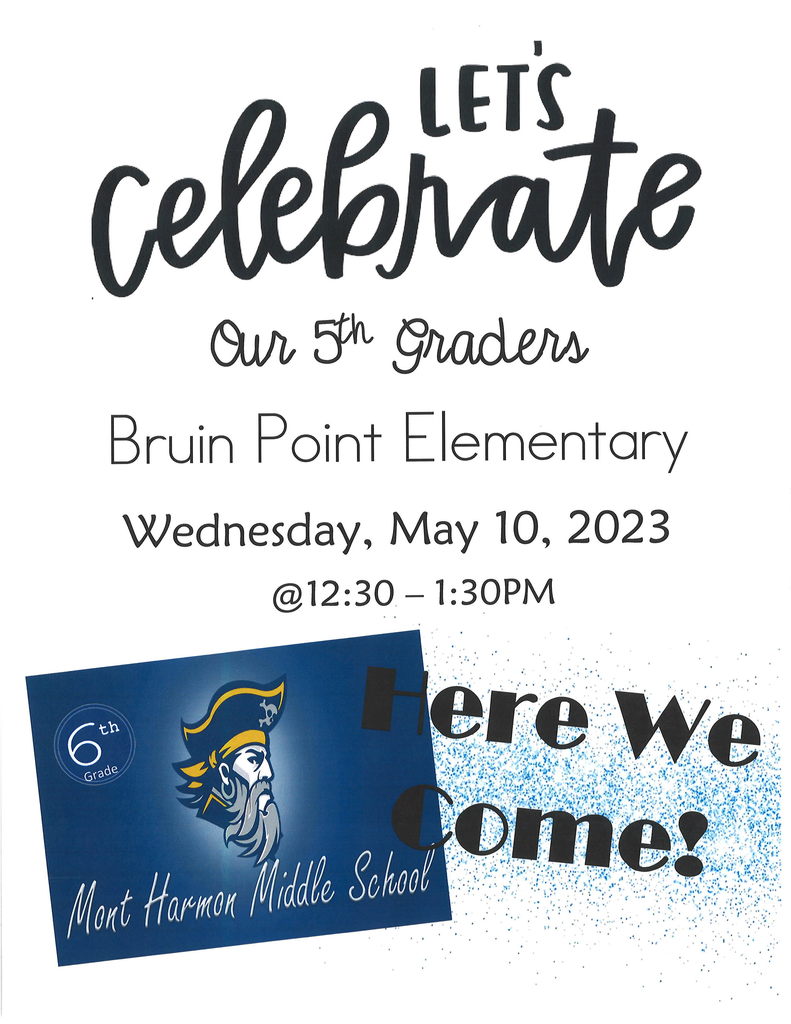 Carbon School District is pleased to offer an optional Summer Learning Program for students currently enrolled in K-5 this school year. This program will be offered from 9:00-12:00 on Tuesdays, Wednesdays, and Thursdays for the weeks of June 13th-July 25th. Lunch will be provided. Transportation will be available through central pickup locations for students that live outside of walking distance. Please complete the form to register your child(ren).
https://forms.gle/Q7Cj3uRaQtQdbaRGA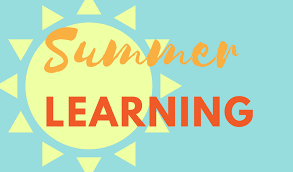 Weekly Events for BPE Students to have fun and show our teachers and staff appreciation. The ideas are all optional and simply suggestions. MONDAY Wear Red: Give a note/picture to your teacher on how they touched your year TUESDAY Wear Yellow: pick or draw a flower to brighten up your teachers day. WEDNESDAY Wear Green: Bring your teacher a special treat. THURSDAY Wear Blue: Bring your teacher something blue. FRIDAY Wear your favorite color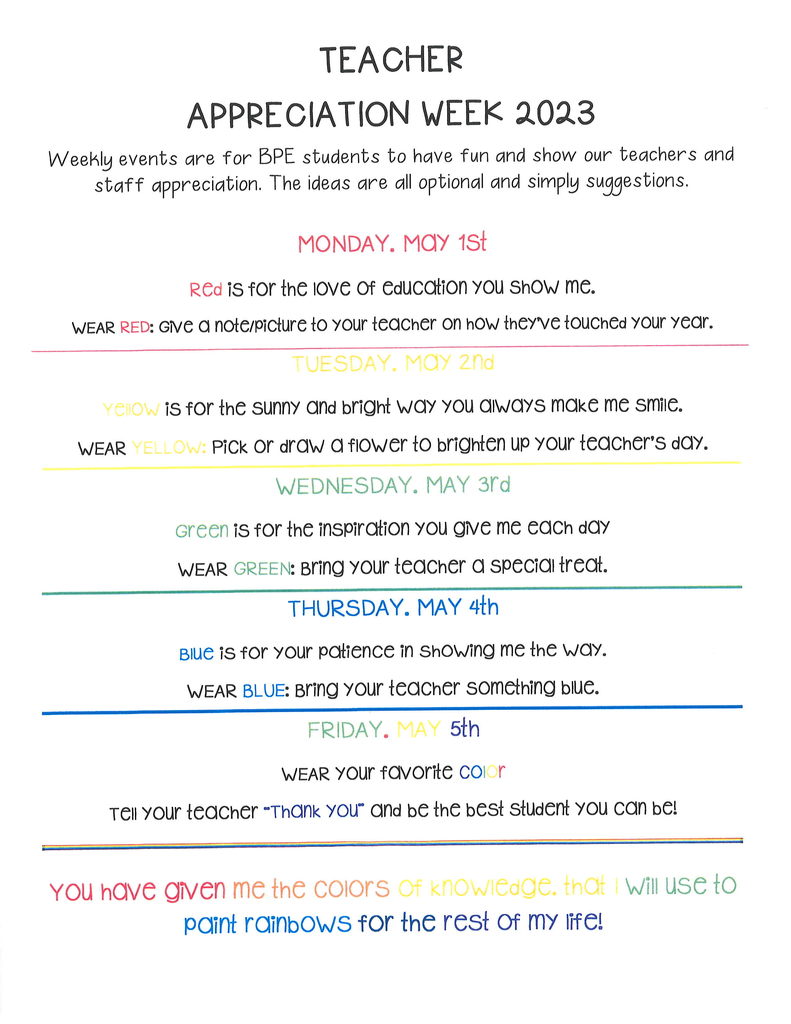 BPE 3rd grade will be going to Price for Farm Days tomorrow-April 25th. They will leave here at 8:15am and return in time for lunch. If you have any questions, please let us know.Thanks:)
Hello Parents, the bus has left the theater and will be arriving at the school around 3:45PM. Reminder, the bus will be running it's regular routes upon their arrival.
Just a reminder-- BPE is going on a Field Trip tomorrow. We will leave around 9am for the Cleveland Llyod Dinosaur Quarry. We will eat lunch there and then head to Price where we will watch Puss in Boots: The Last Wish. We will return to the school between 3:30-4pm. The bus will run its regular route when we get back. Rising Raptors will still meet. If you do not want your child to attend Raptors tomorrow, make sure you fill out the permission slip that went home yesterday. If you have any questions, please feel free to call to office.
After our field trip next Thursday, April 20th, our bus will run to take bus riders home.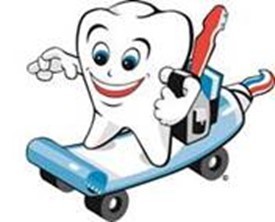 BPE Family- On April 20th BPE will be going on our End of Year Field Trip to the Cleveland Llyod Dinosaur Quarry and then to the King Koal Theater to watch Puss in Boots: The Last Wish. We will be leaving the school at 8:45am. We will return before 4pm. We will alert parents on Thrillshare when we leave Price. We will be sending home a note asking if your child will be having school lunch or bringing one from home. Please fill it out and send it back to school ASAP. Thanks:)
PICTURE DAY - Thursday, March 23rd @9:00AM in the Gym Dear Parents, Attached you will find a PDF of our school's SPRING picture day flyer. **Online ordering for SPRING photos ends at 7am DAY OF PICTURES! The PDF is hyperlinked directly to our schools online ordering event. All that needs to be done to go to our online event is to click anywhere on either page of the attached PDF. This will then take you directly to our schools ordering page. You can also access the online ordering portal by going to
www.mymjthomas.com
and entering our schools event password (located on the 2nd page of this PDF). You may also print this order form and attach a check or cash and bring it in on picture day!