Starting tomorrow Thursday bus 7 will be 10-12 minutes later in the morning only.

Starting tomorrow Thursday bus 7 will be 10-12 minutes later in the morning only.

Carbon School District is seeking applications for a Student Advocate at Mont Harmon Middle School in Price, Utah. Will be working as the Student Advocate.  A student advocate is a member of a school faculty who works with troubled students or those who have problems in their education. As an advocate, you ensure these students get the help and resources they need to engage in a positive learning experience. This is a part time position working approximately 29 hours per week. Must have a high school diploma or equivalent.   Must also be able to pass a Live Scan fingerprint background screening (cost of $25). Starting pay is $14.12 per hour. Apply online at
www.carbonschools.org
using the Menu tab and the CSD Employment Opportunities link.

Carbon School District is seeking applications for a Maintenance Worker. General knowledge and experience with any or all of the following trade skills: electrical, plumbing, HVAC, drywall, painting, welding and carpentry. Must be able to work independently and with team members. Daily tasks may include any or all of the following:  Assess roof leaks and determine the best way to fix it. Complete various jobs including water and gas line repair, electrical wiring repair, and concrete work. Drywall repairs. Masonry repairs.  Assist with irrigation issues, and fix broken water lines and sprinklers.   May work in confined spaces requiring use of a respirator and Hazmat suit. Change locks, doors, windows, insulation, floor covering etc.  Repair and maintain office equipment, hang white boards, tack boards, projection screens, furniture playground equipment and athletic fixtures. Complete safety training exercises and attend staff meetings.  Manage and maintain the keys and locks for the District. Assists with snow removal (e.g. shovels, operating snow blower and/or snowplow, etc.) for the purpose of ensuring a safe environment. Builds items (e.g. counters, brick/concrete projects, stairs, skirting, roofs, temporary partitions, etc.) for the purpose of modifying and/or adapting facilities to specific needs.  Coordinates with administration and other trades for the purpose of completing projects/work orders efficiently.  Very heavy work: Exerting in excess of 100 pounds of force occasionally and/or in excess of 50 pounds of force frequently, and/or in excess of 20 pounds of force constantly to move objects. The work also requires the following physical abilities in order to perform the essential job functions; balancing, climbing, crawling, crouching, feeling, fingering, grasping, handling, hearing, kneeling, lifting, mental acuity, pulling, pushing, reaching, repetitive motion, speaking, standing, stooping, talking, visual acuity and walking. Must have a broad knowledge of carpentry, including equipment usage and maintenance; knowledge of general construction work; masonry; safety practices and procedures; and health standards and hazards.  Must be able to adapt to changing work priorities; and meeting deadlines and schedules. Sufficient in use of technology to monitor building systems, use facility management software to report, track and manage facility issues.  Must have a high school diploma or equivalent.  Ability to pass background check is required. This is a full time position with benefits.   Pay begins at $23.53 per hour. Apply online at
www.carbonschools.org
using the Menu tab and the CSD Employment Opportunities link.
Parent Teacher Conferences are on Monday, September 19. Teachers will be in their rooms from 4 - 7 pm.

Mont Harmon School Community Council needs more members! We are accepting nominations beginning Monday September 19th at Parent/Teacher Conferences from 4pm-7pm. If you can't make it you can send nominations (you or someone else). to Laurie Molinar at
lkayem22@gmail.com
. This is a great opportunity for parents to create a plan to improve educational outcomes and to determine how to best spend School Trust Land funds associated with the plan.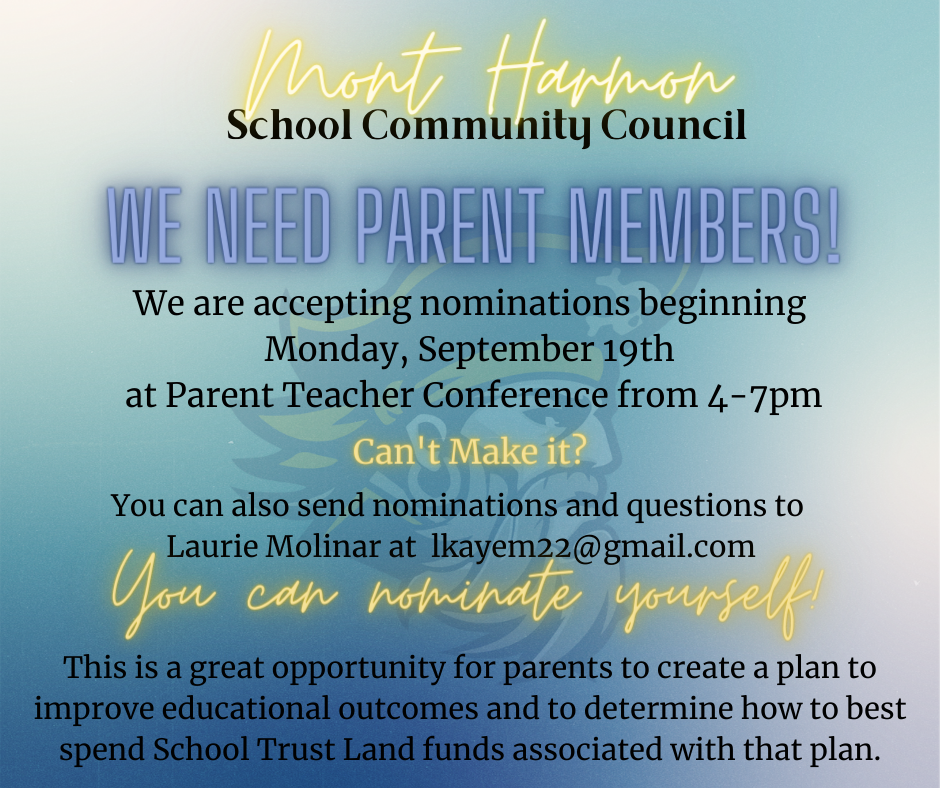 Next Monday, Sept. 19th will be parent/teacher conferences. They will go from 4:00pm-7:00pm. One night only. No appointments required.

Carbon School District is seeking applications for substitute kitchen workers.  These workers will assist kitchen managers with various duties in the school kitchens such as: preparing food, serving students, dishes, cleanup,  sweeping, mopping, storing food, and any other duties that are required to assist management.  This job is a district wide job and is on an as needed basis.  A food handler permit is required for application. Must be able to pass a Live Scan Fingerprint background check which costs $25. Apply online at
www.carbonschools.org
using the Menu tab and the CSD Employment Opportunities link.

Quick reminder that tomorrow (Sept, 7th) is picture day.

Just a reminder that today, Tuesday, September 6 will be early release. School will be dismissed at 12:42p.m. Thanks.

Parents, there is NO East Carbon activity bus tonight.
PICTURE DAY is coming on WEDNESDAY SEPT. 7th! Information and instructions will be on the flyers being home this week. Reminders will be sent in the days prior as well.
Parent Pick Up is back on for normal parking lot procedures! Thank you for your patience and understanding today with the student drop-off with construction. It is finished and we will go back to the normal route for student pickup. Thank you and its been a great first day so far with all your students!

We will be stating vision screening next week. If you DO NOT want your student to have a vision screening please contact the office for an OPT-OUT form.

Student pick-up and drop-off are back to normal. They are done with the parking lot. Parents are welcome to use the bottom parking lot.

We are excited to see all of our students tomorrow. We have some important information! 1.) A lot of classes have changed. Please check your student's schedule and make note of any changes. 2.) Your student will be told what lunch they have during first period tomorrow. 3.) Tomorrow (August 17th) is a FULL DAY. 4.) Parents need to drop off students at the top (west) parking lot. The bottom lot (east) will NOT BE OPEN! Buses are the only vehicles allowed in the bus turn around.

You have received an email about registration. If you have not received one please call the front office and update your email. EVERY student needs to register, either online or in person. It register online you need to login to your PARENT ASPIRE account. You only need to come to the school if you need vaccinations, or you need a schedule change. Please check your email for additional information.

Carbon School District is seeking applications for a part time Custodian. Help with the operation, upkeep and cleaning of the school building and grounds. Keep the building comfortable, safe and clear for all times the building is scheduled for use.  Custodial duties include cleaning walls, windows, furniture, floors (carpet & tile), and cleaning restrooms. Stripping and waxing tile floors, refurbishing gym floors periodically. Other custodial duties as assigned by head custodian. Must pass a live screen background check.   Must be a high school graduate or have equivalent.   Apply online at
www.carbonschools.org
using the Menu tab and the CSD Employment Opportunities link.

Registration information: Schedules are now available to view. If you cannot remember your login please call the front office and they will reset your password. (637-0510). The link to Aspire is
https://sisweb.carbonschools.org/Login.aspx
Please make sure you are logging in under your student login, not your parent login. Remember that we do our best to get students what they request, but sometimes it doesn't work out that way. We have had a few teachers not return this year. Changes have been made with the new teachers listed. Lunches will not be assigned until the first day of school. Remember registration is next week. If you cannot make it on your assigned day, you are welcome to come another registration day.

Important Registration Information!! Registration for MHMS will be August 9th-11th. 9am-2pm each day. August 9th- 7th Grade (Health Dpt. Will be available for 7th grade vaccinations) August 10th- 8th Grade August 11th- 6th Grade August 12th- New Students (this is for students who have not attended MH or 5th grade at CVE, CHE, WE or BPE). If you need schedule changes parents and students will need to come and meet with a counselor during registration. You should be able to see your schedules on 8/3/2022. Please make sure you are logging into your student account (not your parent account). Thank you! We are so excited for this coming school year!